Testimonial from Margie K., Weaverville, NC: My 23 year old daughter got braces when she was 12 years old because she had buck teeth. When they were removed a few years later, her top teeth started moving back to their original position before the braces. Her orthodontist said she needed braces again. Financially, this was a burden but we had no choice. The same thing happened after she had the second set of braces removed and she got a third set of braces. A second opinion from another orthodontist revealed that my daughter had a tongue thrust and that was why her teeth kept moving! We were referred to correctmytonguethrust.com, and after 8 weeks, my daughter learned how to swallow without letting her tongue push the back of her upper teeth. Her third set of braces have been removed but her teeth are staying where they should be! Treating her tongue thrust was the best thing we could have done and we wish we had done it earlier!

---

Testimonial from Barbara H. : "Before I found the 'Correct My Tongue Thrust' program, my new dentist indicated I had a strong tongue thrust. I love to research and came across Janet Bennett's 'Correct My Tongue Thrust' program. I was impressed with the information on Janet's website and ordered the program!

I chose to have the personal zoom session with Janet and have to say it was absolutely worth it!

She gave me confidence that I could do this, even at age 65! Janet shared several case studies of clients with similar issues, including before and after photos. I had several questions and it became obvious very quickly how knowledgeable and experienced Janet is.

Janet observed my bite, swallowing and tongue placement. She explained what was causing problems and how the program could be beneficial to me. She also led me through some key exercises offering valuable feedback which I know will improve my success moving through the program.

After my session with Janet, I felt extremely prepared and inspired to start the program. I highly recommend a personal zoom session if you purchase the program. Janet is a deep well of knowledge and expertise wrapped in a package of passion for what she does and genuine caring about your results!"

---

Testimonial from R.M.: "I am a 64-year-old female who has a five-year history of a chronic dry cough that has been exhausting. I have addressed acid reflux and allergies in the past, but have received by far the most benefit from Janet at Correct My Tongue Thrust. I learned awareness and mindfulness of habits I needed to correct and introduced exercises to strengthen my mouth/tongue muscles. I have experienced tremendous improvement in a very short time. I cannot express how life-changing this program has been for my health. I most highly recommend this program."

---

Testimonial from Jon E.: "Great news: I had one of the best night's sleeps EVER last night. Although I've just started Week #2, I'm beginning to feel like your program is going to be my SAVIOR. I can absolutely tell my breathing is improving in big ways through my nose. It's like the airways are clearning up and my nose is operating at a whole new level.

One thing you have to know: I read Jame Nestor's book, Breath, several years ago and also watched tons of Patrick McKeown's videos on proper breathing. That said: I thought as long as I was taping my mouth at night, that would solve my issues. Not exactly so, I have learned.

By toning/strengthening my tongue as you have shown me, I am now seeing this was the a much better bigger problem than I thought. I am waking up now and immediately noticing that my airways thru the nose are vastly improved and it's not hard to realize how much I had been struggling for so many years and not getting enough oxygen at night. Very sad.

Janet - you have given me a new 'lease on life.' I seriously cannot thank you enough. I'm not fully recovered yet; but I just wanted you to know I'm seeing incredible signs of improvement that are undeniable.

I will take more time when I have time to expand on all my struggles. Things like ADHD/concentration issues, terrible mood swings & irritability, and just never achieving to the levels I knew I was capable were things I just began to accept as my reality."

---

Testimonial from Lisa L., Asheville, NC: The IJustWantToSleep exercises have worked well for my 6-year-old autistic child as well as for myself. She snores less and sleeps better through the night. Also, she wakes up in the mornings without being so fussy. As for me, it has trained me to keep my tongue in the right spot even when I'm not doing the exercises. It does work!!
---
Testimonial from Merry Beth E., Evergreen, CO: "Several years ago, I started snoring, affecting both my and my husband's quality of sleep. I would awaken in the middle of the night and in the morning with a terrible dry mouth. After reading a book that explained the health problems caused by mouth breathing, I decided to take action. For about six weeks, I taped my mouth closed at night. This proved to be bothersome, irritating to my skin, and ultimately unsustainable. Then I heard about the work Janet was doing to help people stop snoring. Within only a couple of sessions with her, she was able to identify my problems and determine a plan of action.

We met once per week for a couple of months, with the sessions lasting about 30 minutes. We would discuss my progress and/or changes, then I was given specific exercises for the week which were quick and easy, most of which could be done while I was performing my daily activities. At first, I saw few changes, but after sticking with it for a couple of months, I began to sleep more frequently with my mouth closed. Hallelujah! Now many of the exercises and mindset come naturally, so I'm confident that soon I will be snore-free, with my husband and my body thanking me! Thanks again for your help. My husband told me a few mornings ago that he's noticed me snoring less. Hurray!"
---
Testimonial from Nina V.: "I have suffered from TMJ for many years and was hoping that fixing my tongue thrust would help relieve all the issues associated with it. The amazing thing about the therapy was that it not only corrected my tongue thrust but also corrected two other chronic conditions I had! I had shoulder and arm pain that would wake me up at night. I also had this feeling that I had something stuck in my throat all the time. The doctors recommended many costly tests (nerve conduction tests, CT scans, etc…) for both conditions with no results.

By the end of Janet's program, I realized that my chronic pain and my swallowing problem were both gone! My TMJ is gone as well. I sleep better and wake up in the morning feeling refreshed and ready to go. The therapy was transformative in so many ways, but best of all it was easy to do and done in a matter of weeks! I am 50 years old, and I can't believe that I have lived with this for so long! I am so grateful!"
---
"Janet has been exceptional with our patients that need myofunctional therapy in conjunction with orthodontic treatment. Results have been amazing and every patient and family have been highly pleased with the treatment received at Asheville Speech Associates." - Dr. Jeffrey Roeder, Asheville, NC
---
Testimonial from Robert Wyatt: "I had a severe issue with my lower teeth beginning to space and protrude. Area orthodontists were hesitant to do braces because of my Sleep Apnea. After just a few weeks in the Tongue Thrust program, I began to see significant improvement in not only teeth movement but the correction in chewing and swallowing."
---
Testimonial from T. Johnson: "Janet did an amazing job helping me overcome my tongue thrust. Her program is efficient and doable, and it works! I wish I had known about my tongue thrust years ago when I had braces. However, now I am confident that my tongue will never move my teeth again. I highly recommend working with Janet!"
---
1-Before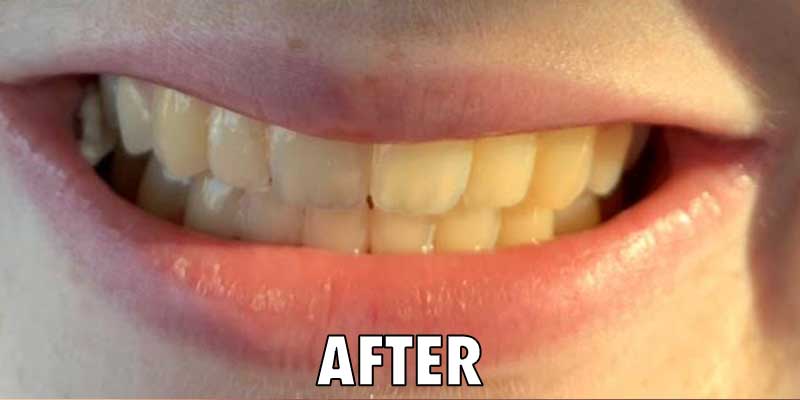 1-After
2-Before
2-After
3-Before
3-After
4-Before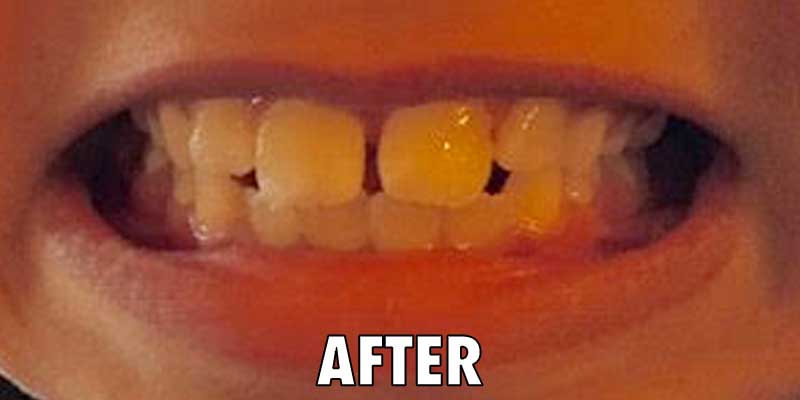 4-After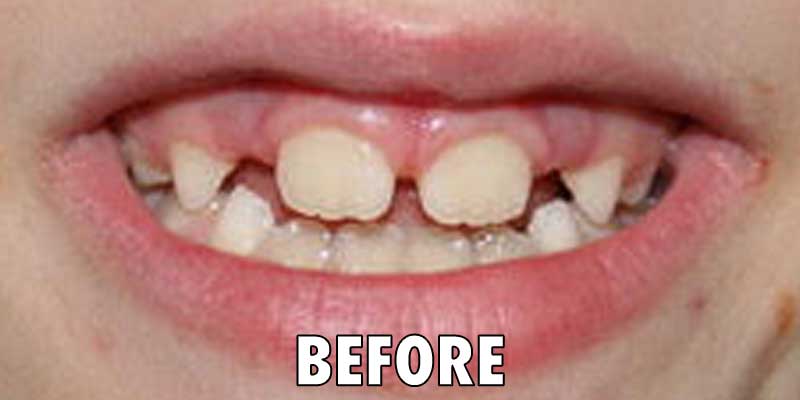 5-Before
5-After
6-Before
6-After
7-Before
7-After
8-Before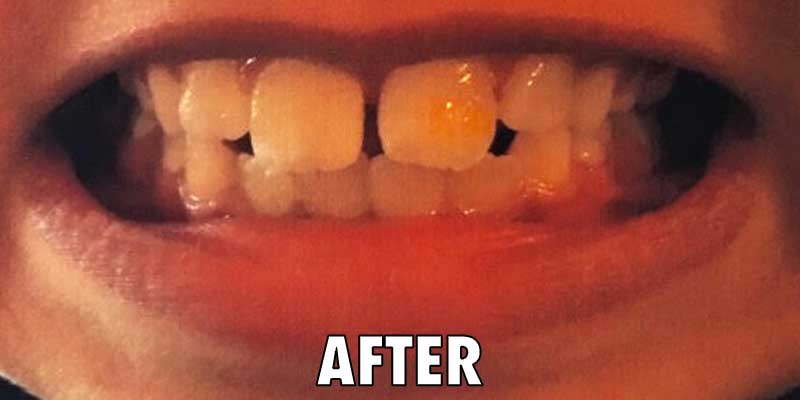 8-After
---
Testimonial from Nicole M., Asheville, NC: "I cannot thank Correct My Tongue Thrust for their time and support in re-training my tongue! I had NO idea my tongue placement was so off and luckily I was told to try this program. With their assistance and some slight modifications in my diet, I have been able to alleviate some major salivary gland stone issues I was having as well as sleeping better, staying more hydrated, and I can now swallow pills! Thanks again, I am beyond grateful!"
---
Testimonial from A.S., United Kingdom: "I just wanted to say thank you for helping me with the 'IJustWantTo® Correct My Tongue Thrust" program. I have had orthodontic work to close my open bite, but I also needed to fix my tongue thrust, so my bite did not open up again. The exercises were simple and easy to follow, and although it did require strict dedication to them for two months it has worked.

I feel completely confident now with my teeth and how my mouth looks when I am speaking and eating and its general shape has improved. I feel normal now like everybody else, and I am no longer self-conscious about the way my mouth and teeth look, as thanks to the orthodontic work and your exercises they now look perfect!

I would just like to thank you again, I really feel grateful, this transformation would not have been possible without your research and your development of this program."
---
Testimonial from M.G. - Thunder Bay, ON: "The information online was easy to comprehend and was a definite reflection of my child. It encouraged my child to work with me. The product was extremely easy and successful. It is important to do all the exercises faithfully. The product was a good length and was simple enough to understand and fit into a busy schedule. Within a short timeframe, it was apparent that there was a noticeable improvement in my child's tongue thrust.

I have also noticed thus far, that my child's social interaction with family, friends, etc. has enhanced tremendously. My child was cooperative with the exercises because he too noticed a difference. This product has definitely changed my child's life. It is well worth the time and effort and I highly recommend it."
---
I purchased your Tongue Thrust Training Program for Speech/Language Pathologists. I tried it on one of my clients and we had a ton of success! Please feel free to share this because this is a well-deserved program that actually works! - Kristen K., CCC-SLP, California
---
Testimonial from AMB: "Thank you so much for your tongue thrust program. I have had such a battle for the past year with chronic pain from my geographic tongue and fissured tongue on the sides. I am so glad I came across your website and realized that I also have a tongue thrust and that I can do something about it! I am sure that it is going to make a huge difference for me. Thank you!"
---
Testimonial: "I am on Lesson 3 and just verified that I don't have to keep doing Lessons 1 & 2. I should just focus on Lesson 3. So far, I think I am doing well. It's really crazy how often I catch myself pressing my tongue against my front teeth and then I move it to the spot. Your classes are helping me so much. I was trying to teach myself how to swallow before and I just couldn't figure it out. It's hard to notice my swallowing throughout the day, but I am noticing where my tongue is at rest. Wearing the yellow bracelet helps. Maybe I should make a sign and put it on the kitchen table!"
---
Testimonial from Carol Roper, PETERS CREEK, AK: "Thank you so much for helping me finally get some sleep. It took me three months to get through the program but I now get to sleep and stay asleep almost every night without even getting up to go to the bathroom. I have more energy. Please know I am very grateful and at last, rested."
---
"I can honestly say your "Tongue Stick" is a tool I give all my new patients in my practice as part of my Orofacial Myology Therapy Program. The "Tongue Sticks" are a great neuromuscular stimulator that aids my patients in performing the exercises necessary to correct their tongue thrust swallow patterns. So happy to have found you!" Highest regards, Mary Ruma-Smith, BSDH, RDH, COM
---
Testimonial from Denise C., 50 yrs., CUPERTINO, CA: "When many people told me that my snoring was abnormally loud and I felt listless upon rising in the morning, I decided to do something about it. First, I studied those that did snore. It wasn't hard to find them. Those that snored loudly and disruptively ALWAYS had their mouth open. So I tried keeping my mouth shut by attaching a few headbands around my head and chin. It seemed to work but the headbands kept coming off. So when I read about this program, it was a NO-BRAINER for me for I had already experienced the benefit of keeping your mouth closed and this concept would do that without a contraption on your head. I now sleep with my mouth closed entirely … smart concept, easy effort, great return … good job."
---
Testimonial: "Thanks for the good night's sleep! My "heroic" snoring was a constant source of comment when I was on group outings."
---
Testimonial from Hartmut Schwarz: "My wife Kelly pretty much concluded after week one that she could never have a night's sleep being in the same room and would often retreat to the couch in the living room after I fell asleep.

At this point, I started looking on the Internet for a solution, preferably one that would address the cause. I came across your site and decided to give your program a try. After the second week, my symptoms were rapidly disappearing. About halfway through the program, I was sleeping normally and I was feeling much better when I woke up. My wife can now sleep in the same bed as I."
---
Testimonial from Irma, Martin & Lucas, The Netherlands "Here is a reaction from a happy user in the Netherlands. Your program is GREAT and you made fans in my family! It is so easy, no tools, no medicines. I had a snoring problem for many years. The first step of solving this was using a sleeping brace that has a little ìspoonî which avoided that my tongue would fall back causing snoring. I had this for 2 1/2 years and it works OK, but if the brace breaks or you forgot the brace, many people around me didn't get much of a quiet night, including myself. Another problem was if your throat was irritated, the brace was not comfortable. Your solution works perfectly for me. For the first 6 weeks, I still slept with the brace in. Since the 7th week, I sleep without the brace, but I slept the first week in the attic with all doors closed, because my wife wanted to be sure that the snoring was (almost) over. Now I only snore if I (slightly) wake up in the middle of the night and forget to put my tongue on the spot again!

"I can recommend this to everyone and if I tell people that I am an ex-snorer, they are always interested in how I overcame the problem. Even my doctor and dentist were very surprised about the simplicity! If you have new exercises, please let me know. Keep up the good work!"
---
Testimonial from a Speech Pathologist: "My name is Kristin. I am a practicing speech pathologist in Southern California. I recently had a new client referred to me with an incredibly involved tongue thrust and multiple articulation issues. I will call him M. Although I took a very extensive orofacial myofunctional course I felt unprepared to treat M. To give some background, M had already been to another provider who took the same training as I did and unfortunately his tongue thrust and articulation issues were unresolved. I felt a tremendous amount of pressure to do what was right, or perhaps refer M to another provider.

I scoured the internet and stumbled upon Janet's program. I reached out to Janet, had a detailed conversation, and decided to take the plunge and purchase her program. I explained to M and his mother it was a new program for me so we would be learning together. We began the program; it took 9 weeks due to scheduling issues. In the middle of the program, I received a very heartfelt group text from M's mother and father. In essence they thanked me profusely. They told me they just watched M do a presentation via virtual school and couldn't believe the changes with his articulation and most importantly his confidence. Fast forward to the end of the program: M no longer had a tongue thrust and his articulation issues were remediated as well. Several weeks later, M's mother called me after a dentist appointment to ask if it was ok to give her dentist my contact information. She relayed to me that the dentist wanted to know how M's bite was remediated! M's mom explained the treatment he received via Janet's program along with my guidance. Although I loved the accolades, they all go to Janet since it is her program that helped M.

M happens to be a very handsome young man who was incredibly shy when I first encountered him. He had no desire for speech therapy, since his last experience did not go the way he had hoped. Fast forward to today, M's confidence has been transformed. He carries himself differently, he stands tall with his shoulders back and his articulation is simply music to a speech therapists' ears, especially his /r/ sound! To be honest, when his /r/ was remediated I was in a bit of shock, and made the poor young man say way too many /r/ words to convince me that this program treated his /r/ in addition to his tongue thrust. But it did!! Thank you, Janet, for sharing your 35 plus years of expertise. You are truly a blessing to more people than you know. Thanks to you I now possess the confidence to treat tongue thrust patients."
---
Testimonial from Cathy, CARY, NC: "I want to express my gratitude for the wonderful, medication-free, appliance-free, and machine-free program you have developed for snorers. I discovered your Web site while doing a class paper on snoring for my massage therapy education. Your program was the only one to encourage exercising weak muscles to address the source of the problem rather than 'applying a bandaid.'

At age 14, my son had become quite a snorer … we were not aware of it until he spent a night of vacation with a friend's family and he kept all the family awake with his snoring! Once I was made aware of this I started him on the exercises and 3 weeks into the program he had the snoring under control.

I, too, suffered from snoring and like my son, found about 3 weeks of exercises was all I needed to bring it under control. As I encounter clients with symptoms and signs of heavy snoring and sleep apnea, I will definitely refer them to your wonderful program. Obviously, I'm really excited about the benefits of your program!"
---
Testimonial from Kim G., California: "Your book and your exercises have made such a POSITIVE difference in my life! I have almost completely stopped snoring (only do VERY little when nasal passages are plugged) and feel much more rested in the morning. The most important impact your program has had in my life is the fact that my partner no longer wakes me up countless times during the night complaining of my snoring! This scenario occurred EVERY night until I started your excercises. I noticed a gradual change and, through the course of the program, became aware that I was no longer waking my partner up at night because I was no longer being woken up by complaints! It was a miracle for sure! I would just like to say THANK YOU SO VERY MUCH for developing something that is non-invasive, easy to follow, and that REALLY, TRULY WORKS!!! THIS IS NO GIMMICK FOLKS!! THIS IS THE REAL THING AND REALLY WORKS AS LONG AS YOU FOLLOW THE INSTRUCTIONS!!! Also, your individual attention to those who select your program is a wonderful touch and means so much in today's world."
---
Testimonial from Sue D., 37 years., ROCHESTER, VT: "This is a medication and device-FREE program that really works! You are simply re-training your body. Thank you for providing the opportunity to correct snoring in a completely natural way!"
---
Testimonial from Michelle P., 29 years, Houston, TX: "I did most of the exercises and felt results of my work immediately. They were easy … anyone could do this. I swallow better and feel more rested in the mornings."
---
"I feel great so far! I am still in Lesson 1 but I already feel like I'm cured. I'll keep you posted."– Erlinda O., SAN FRANSISCO, CA
---
"The program was great. I no longer grind my teeth and rarely snore. Not only have I improved my tongue position but I have also paid attention to my lower jaw position and have learned to relax it more in order to keep my teeth lined up better. The program was a good length and was simple enough to understand and fit into a busy schedule, yet it was substantial enough to provide major benefits and lifelong changes." – Nancy M., 42 years., ROCHESTER, VT
---
"I was surprised that it worked and how quickly I noticed a change." – Nancy N., 45 years., GRANVILLE, VT
---
"I had a serious snoring problem that did not appear to be associated with sleep apnea. I woke up several times in the night and felt very tired in the mornings. After following the program, I feel much, much better in the mornings and do not feel sleepy during the day. The snoring is probably about 95% improved. The lessons were well explained and the support was wonderful. A very positive experience." – Brenda M., 60 years., BREVARD, NC
---
"Thanks to this program, I very seldom snore. My husband sleeps better and so do I. My concentration has improved. I feel more refreshed and am no longer grouchy in the mornings. I liked the fact that I saw results within days." – Teri W., 45 years, SWANNANOA, NC
---
"I was able to reduce my snoring without using drugs, appliances or surgery! I have been researching methods for reducing snoring ever since it became an extreme nuisance for my wife. My ENT physician suggested that I undergo radio frequency throat surgery, but said this procedure is only about 80% effective and can be undone by any lifestyle changes, gaining weight, aging, etc. Before I went through the expense and pain of this procedure I decided to see what other remedies were available. I fully expected there would be many that were of little use, and was not disappointed. I started with breathing strips and throat sprays. The strips helped my recurring sinus problems somewhat, but not much help on snoring.

My continuing research led me to your program and I inquired about the program. After the methodology was explained, I couldn't see any reason not to try it. It's not invasive (except time wise!) and uses no drugs. Strengthening muscles involved made sense, but I was skeptical about developing an ability to change my tongue position. I understood from the first that any success would be dependent on my practice of the exercises, and I think that's key. This is NOT a passive program. You have to think about and do the exercises until they become second nature." – Jay F., 57 years., MEMPHIS, TN
---
From a Therapist: "I can honestly say your "Tongue Sticks" is a tool I give all my new patients in my practice as part of my Orofacial Myology Therapy Program. The "Tongue Sticks" are a great neuromuscular stimulator that aids my patients in performing the exercises necessary to correct their tongue thrust swallow patterns. So happy to have found you!"
---
"This program was extremely easy and successful. It's important to do all of the lessons. The most important thing was to be told where my tongue was SUPPOSED to rest in my mouth." – Betsy W., 50 years., MINNEAPOLIS, MN
---
"I liked the simplicity of the program and the fact that there was no cutting or devices. I enjoyed the program. It didn't interfere with important work and I saw progress in better rest and less wakeful nights early on." – Tony G., 59 years., ROCHESTER, VT
---
"As a registered nurse, I am amazed that something so simple can positively and profoundly affect the health and well-being of so many. By the second week my sleep pattern had improved. It is overwhelming to think of the people who can benefit and change their lives with the program with a few simple exercises. Anyone would be foolish not to try the program which only takes a few minutes a day!" – Barbara B., 57 years., FLETCHER, NC
---
14 Months after the program: "I feel I am sleeping better and quieter. There are times during the day when I become aware that my tongue IS in the right spot and I think of you, Janet, and all of those exercises." – Karen A.
---
15 Months after the program: "I continue to do well! I think about the "spot" before falling asleep and have had very few "relapses." I do the exercises at odd moments during the day more out of habit than predetermined consciousness." – Lois B.
---
"I liked the simplicity of this exercise program to stop snoring and the fact that there was no cutting or devices. I enjoyed the program. It didn't interfere with important work and I saw progress in better rest and less wakeful nights early on." – Tony G., 59 years., ROCHESTER, VT
---
"The program worked so well and so quickly for me. I have seen 100% improvement. Almost from the start I felt calmer when my tongue rested in its spot. Almost like a security blanket, it seemed to calm me down right away. It is very meditative." – Laurey M., 49 years., ASHEVILLE, NC

17 Months after the program:
"I still do refer to the stop snoring method in my thoughts. I don't think I am snoring (word has it), my mouth is not dry, I don't feel like I have hideous morning breath (word has it), and yes, I am sleeping well. Great method!" – Laurey M.
---
"I now go to sleep right away most nights and sleep through the night with no snoring. The tongue exercises were easy to follow and did not take a lot of time. My spouse noticed that I stopped snoring. I have recommended this to several people. I have improved at least 90%." – Sue J., 59 years., MILLS RIVER, NC
---
It was a very easy stop snoring program that was a lot of fun; Just to see if you could do the exercises and to wake up more rested is a blessing." – Paulette S., 57 years., WAYNESVILLE, NC
---
"The stop snoring program is easy and worked for me. I still clench my teeth and need to wear a mouth guard but I'm able to keep my tongue in a good position, so no more snoring." – Nancy T., 46 years, ASHEVILLE, NC
---
"I went through this stop snoring program successfully with 100% improvement." – Rocky B., 49 years., HEBRON, MD
---
"Yes, the program was successful! It was easy and it worked! The explanations of the exercises were straightforward and usable. It was a blessing to have this available." – Patricia S., 67 yrs., NEW YORK, NY
---
"Yes, the program was successful! The exercises were simple – it's so exciting and revolutionary! My partner sleeps soundly now and never complains. I feel like I get much better sleep now." – Heather M., 50 yrs., ROCHESTER, VT
---
17 Months after the program:
"Sleeping is fine. Tongue is on the spot when relaxing at all times: car rides, reading, sleeping … I think it's just great. Feel very rested; sleep is only needed for 6 or so hours a day." – Heather M.
---
"The lessons were very self explanatory. I liked the fact that you didn't have to repeat lessons as long as you were faithful to do your lessons. I could feel the results towards the 4th or 5th lesson. I definitely noticed a great improvement . I am sleeping more soundly and comfortably." – Ricky W., 55 yrs., CANDLER, NC
---
"I saw a great improvement! I thought it was great to have results so early in the program. Sleeping more soundly and less dry mouth. The exercises were easy to do and could be done any time and almost anywhere. Even falling behind with the lessons does not have a negative effect on the process. This was a good experience for me." – Caroline M., 53 yrs., ROCHESTER, VT
---
"I found the program very easy to follow and it produced results for me right away. This has made a dramatic difference in how I feel in the morning." – Jim P., 53 yrs., JUPITER, FL
---
"Before this program, I had exhausted all the possibilities I knew about except CPAP machine and I coudn't bear the thought of using a machine. I was very happy to learn of a method that avoided CPAP and other mechanical means." – Larry H., 47 yrs., ROCHESTER, VT
---
"This program definitely helped me retrain my tongue position and made me more aware of it. My sleep has improved." – Jeff G., 38 yrs., KITTERY, ME
---
"I was pleased to be a part of this experiment. I will admit that because I was already on an airway pressure breathing device, I was somewhat skeptical about being helped to the extent I could wean myself off the device so I didn't give a 100% effort to the program. I did notice better control of my tongue and breathing when resting and not connected to my breather. I found nothing to dislike about the program. I liked the ease that one could practice an exercise at home, office or anywhere for that matter and not interrupt most daily activities." – Don W., 74 yrs., ASHEVILLE, NC
---
"I needed a way to relieve my snoring without the use of a mask, machine, pills, or any other contraption. I had tried just about everything else without success. Your method has given me a means to control my snoring without the use of these other things. The program has had a positive affect on me and my sleeping." – Keith N., M.D., 42 yrs., BRIDGEPORT, W. Va.

16 Months after the program:
"My snoring problem seems to have disappeared. At least my wife doesn't notice anymore." – Keith N.
---
"I have noticed an improvement in my sleep. I no longer wake up every hour and am able to sleep as long as four or five hours in a row." – Allen T., 63 yrs., ROCHESTER, VT
---
"The exercises were very easy and clear. I am sleeping more deeply (not waking up when the raccoons are screaming outside!)." – Ellen S., 60 yrs., HANCOCK, VT
---
"As far as a reduction of snoring is concerned, my husband reports a decrease. My sleep is better because my husband, who also participated in this study, snores less. I do wake more rested." – Carol B., 49 yrs, ASHEVILLE, NC
---
"I liked the specific instructions and exercises because they helped the symptoms. Most of my symptoms were relieved. The program has brought me to where I am not sleepy during the day and my sleep is much less disturbed at night." – Sara M., 36 yrs., ASHEVILLE, NC
---
"The program helped me a lot. Once when we were camping with friends, they thought they heard a fan in our tent, and it was actually me snoring. My husband often moved into another room and shut the doors between us so he could sleep. Years ago, my nose was broken, so I always attributed that as the reason I snored, and probably always will. However, after taking the exercises and learning the new tongue position, I have seen an 80% improvement. My husband stays with me! I sleep more soundly and do not wake up during the night as I used to. I wake alert and refreshed each morning. My favorite song is "Up On The Roof" now. Thank you." – Katie P., 56 yrs., ASHEVILLE, NC
---
"This program most certainly has had a positive impact on my sleep habits. The exercises were easy to follow with little time involvement. My spouse noticed much less snoring. The greatest achievement is not having to get up every 2 hours anymore. Down to one trip during 8 hours of rest." – Paul S., 64 yrs., ROSWELL, GA
---
"Your program is wonderful! Going to sleep at night is no longer a problem and I wake up feeling refreshed and ready for a new day. Your sleep program has enhanced my quality of life!"- Andrea S., 43 yrs., ASHEVILLE, NC
---